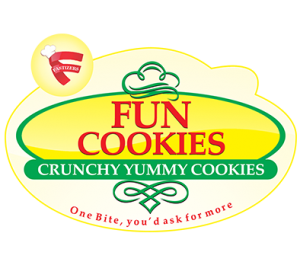 Fun Cookies is our Flagship product. It is easily your favorite snacking delight with a distinct short-bread taste made of a rich blend of nourishing ingredients. The heart-shaped Fun Cookies is a delicious packaged snack loved by many which makes it an ideal choice to be consumed with hot/cold beverages, drinks or water. It is also a rich source of energy. It is amazingly filling and the superior rich milky experience and after taste will leave you asking for more. Fun Cookies currently comes in 2 flavors – Fun Cookies Classic & Fun Cookies Fruity Shortcake.
Fun Cookies Classic Nutritional Values
Fun Cookies Classic – Nutrition Facts
Serving Size
90g
Energy Value/Calories
404Kcal
Typical Values – Amount per Serving
% Daily Value
Protein
5.6g
11.00%
Carbohydrate
55g
20.00%
Total Fat
18g
23.00%
Saturated Fat
3.3g
16.00%
Sodium
298mg
13.00%
Sugar
14g
Dietary Fibre
1.4g
5.00%
Vitamin A
751.33IU
15.00%
Vitamin E
1.95mg
9.00%
Vitamin D
2.25mcg
11.00%
Vitamin B3
3.141mg
20.00%
Vitamin B2
0.284mg
22.00%
Vitamin B
0.421mg
35.00%
Iron
2.53mg
14.00%
Zinc
0.33mg
3.00%
Potassium
116mg
2.00%
Calcium
32.1mg
2.00%
Based on 2000 calories diet.
% Daily Value (DV) tells you how much a nutrient in a serving of food contribute to a daily diet.
Fun Cookies Fruity Shortcake Nutritional Values
Funcookies (Short cake) – Nutrition Facts
Serving Size
95g
Energy Value/Calories
406Kcal
Typical Values
Amount per Serving
% Daily Value
Protein
5.7g
11.00%
Carbohydrate
56g
20.00%
Total Fat
18g
23.00%
Saturated Fat
3.2g
16.00%
Sodium
242mg
11.00%
Sugar
14g
Dietary Fibre
1.6g
5.00%
Vitamin A
760.37IU
15.00%
Vitamin E
3.34mg
15.00%
Vitamin D
91.16mcg
11.00%
Vitamin B3
3.172mg
20.00%
Vitamin B2
0.277mg
21.00%
Vitamin B1
0.424mg
35.00%
Iron
2.54mg
14.00%
Zinc
0.41mg
4.00%
Potassium
114mg
14.00%
Calcium
36.13mg
3.00%